Secret squirrel tidying (AKA school holiday packages)
School holidays are fast approaching; it seems like just last week that you were researching school holiday programmes, Googling the latest kid-friendly movies, and tearing your hair out coming up with novel ways to keep your kid entertained for weeks on end.
Guys! I've had a brainwave!
What if I told you that you could spend 3 hours doing something FOR YOURSELF these school holidays, happy in the knowledge that your kiddo was not only safe and entertained, but also unwittingly learning skills to help them keep their room organised going forward. Sounds good right? Then say hello to my School Holiday Package. Here's what you get:
Pre-appointment site visit and meet and greet (so you can verify that although you met me on the internet, I am NOT a weirdo)

Up to 3 hours of expert tidying and organising

An organisational set up that is specifically customised to your kid's interests and habits
But wait, there's more (hahahahahaha, I have always wanted to say that)! That's just the official stuff you get - what about these hidden bonuses?
Childcare (that's me!) for 3 hours so you can do something that you enjoy. Read a book? Have a manicure? Watch the latest Rom-Com on Netflix?

Consider the nagging outsourced! I'll keep your kid on track from the time I'm with them so by the end of it, their room will be neat as a pin.

They'll actually have fun! I'm going to put it out there - I'm fun to be around and kids love me. They'll have so much fun that they won't even realise they are tidying up and organising their room.

I'll teach them how to tidy up quickly in the future - so when it's time to tidy up before dinner, they'll be done in a jiffy without any fuss at all.
What kind of kids would enjoy this? I hear you ask.
Any kid who is tired of being nagged to tidy up their room, and hates doing it because it takes FOREVER! And typically kids aged between 6-12 get the most benefit out of this service - they're old enough to see the benefit (less nagging, easier tidying) and young enough to be excited by the promise of using the label machine at the end!
The feedback line is open!
Here's some feedback from Molly, a lovely young lady I worked with last school hols, and also from Molly's Mum. (You can read Natalie's whole review over on Facebook).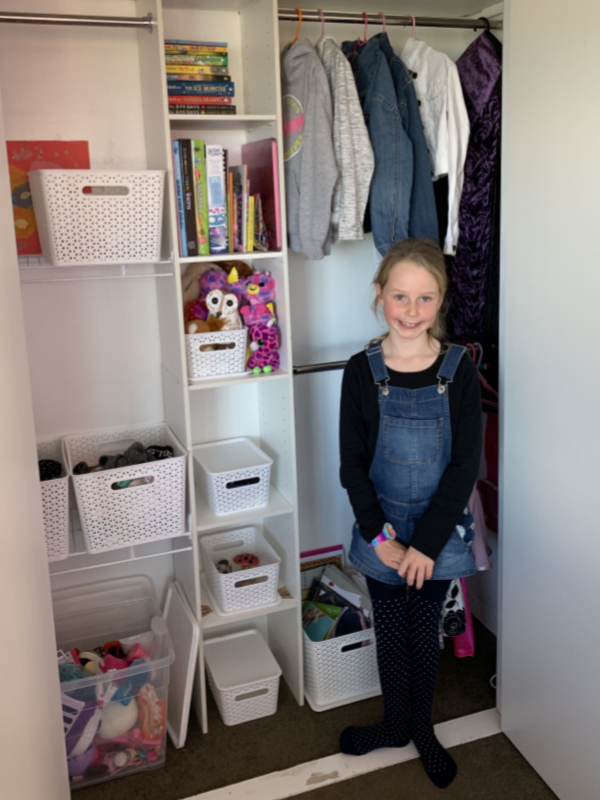 Happy customer Molly in front of her freshly organised wardrobe.
What's the cost?
$300*! That's a bargain, right? Remember this is what you are getting:
✅ Site visit, measure, and custom organisation design
✅ Childcare for up to 3 hours
✅ Neat and tidy kid's bedroom
✅ #nomorenagging
*Any products required are additional. Following the site visit and measure, a quote will be provided that includes any products I recommend to help your kid keep their room tidy after I've left.
What do you reckon? Is this the most genius life hack you've ever heard of in terms of school holiday activities? My School Holiday Packages are strictly strictly STRICTLY limited, so don't hesitate to snaffle up your appointment before they sell out.